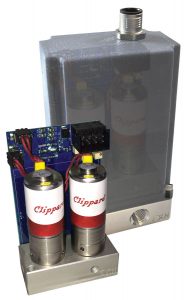 Benefits
Smooth linear control
Real time adjustable PID control
Multiple flow configurations
Static or dynamic applications with the same proportional regulation
No integral bleed required
Customizable pressure ranges and mounting options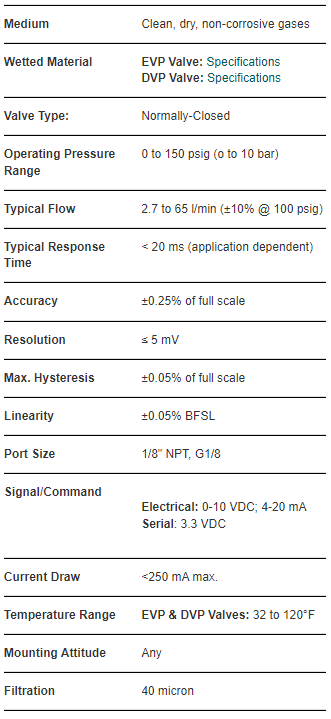 Precise, linear digital pressure control within a closed-loop system with ultra high resolution and repeatability.
Cordis Electronic Proportional Pressure Controls
The Clippard Cordis is a revolutionary microcontroller primed for escape velocity from a proportional control market that has grown stagnant. The Clippard Cordis built with the highest quality Clippard EVP and DVP proportional valves at its heart, the Cordis is designed to outperform the competition in every way. With unparalleled performance and flexibility not possible with current analog proportional controllers, the Cordis makes everything from calibration to sensor variety acceptance to future development opportunities more accessible and less complicated.
The Cordis uses a microcontroller, integrated pressure sensor, and two Clippard proportional valves. The inlet valve is connected to the moderately regulated supply pressure and the exhaust valve is connected to a port that vents excess pressure to atmosphere.
Once a command is increased, the inlet valve opens up to allow supply pressure to pass over the sensor element which provides an active feedback for the microcontroller to satisfy the set point in the process. If at any point the sensor detects a value higher than the set point, the exhaust valve will modulate open to vent off the excess pressure to maintain a stable and accurate control pressure in the
process.
The Cordis is adaptable to a variety of sensors that can close the loop around not only pressure, but vacuum or flow.
Pressure Control for 3D Bioprinting (Vacuum)
Variable vacuum (just below atmosphere) holds the print fluid up in the print head. The bioink fluid is gravity fed from the extruder to 3D print biologic products. High resolution and very fine vacuum control is required to counteract gravity without sucking fluids back into the controller.
Pressure Sensor Testing
Precise pressure control for pressure sensor manufacturing and quality testing is required. Multiple sensor ranges dictate multiple Cordis units be used to provide the best resolution and repeatability. This application mandates the Cordis units produce the necessary accuracy and resolution demanded when varying test pressures to "pressure" transducers for both production calibrations and quality checks. Multiple Cordis units are used to achieve the best accuracy and repeatability for each sensor range on the bench. Accuracy, resolution, and repeatability are represented as a percentage of full-scale calibration. The high-resolution and excellent repeatability of the Cordis units provide customers with more precise data and stability.
Gas Chromatography
Gas chromatographs can be found in labs all over the world. They are designed to identify compounds based on the measured speed each takes to reach the detector. All gas chromatographs require stable flow control to ensure valid measurement & Identification. In this drawing, precise pressure is controlled to a known and fixed orifice. If pressure remains stable to the orifice, flow remains stable throughout the process. The compound sample is injected into the injector valve and then flows through the column while being heated. This process requires excellent resolution and accuracy to ensure stable flow.